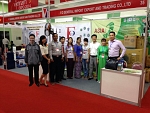 19/09/2012 | 10:31
F.C General Im.Ex and Trading Co., Ltd ( Fcimex )
We are one of the leading Exporter in Vietnam that specializes on exporting following products :
+ Electrical fan, Water Filter, Vacuum Flask ,Water Pump Fluorescent tube light, Incandescent bulb , Energy Saving compact fluorescent lamp,Electric Cable and wire
+ Gum Rosin WW Grade , Turpentine Oil
+ Super precipitated calcium carbonate, Coated Calcium Carbonate , Axetylene Balck carbon , Calcium Carbonate Compound ( Filler CaCO3 Master Batch )for PP woven bag, PE shopping ba, PE film
+ Acid phosphoric85% food grade , Aluminum Hydroxite , Activated Carbon for multi purpose ( Water treatment, Air filter , Gold mine )
+ Various kind of sackcraft paper for cement bag , craftline paper , coated duplex board grey back
+ Offset printing ink for multi purposes
+ PE/PVC Tarpauline sheet with differents substance and dimentions to meet all customer's requests
Welcome all esteemed customers to contact us for more details.
Thanks & best regard.
Phan Anh Cuong
Im.Ex Director
H.P:+84-912.068.048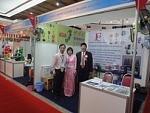 24/08/2012 | 09:17
Among thousands of companies both in Tanzania and from 17 foreign countries, for the first time, a Vietnamese Hanoi-based import-export FCIMEX company participated in the 35th Dar es Salaam International Trade Fair called Saba-Saba from June 28th to July 7th, 2011. Tanzanian leaders like President, Vice President, Prime Minister … attended the Trade Fair respectively.